Emotional Freedom Technique (EFT) was developed by Gary Craig around the early 90's, although continues to be refined by many people to this day. It is one of the many forms of METs (Meridian Energy Techniques) now available, and perhaps one of the easiest to learn.
EFT originated from TFT (Thought Field Therapy), which was discovered by acupuncturist and psychologist Dr Roger Callahan. While Callahan developed the basic concept and structure, Craig had the vision to refine it and make it accessible to everyone. He also, along with many other therapists working in this field, began to realise the broader possibilities for EFT.
As a therapeutic technique there is little else to equal its simplicity and effectiveness. Many experienced therapists now report typical success rates of 80-95% for many conditions. The immediate history of EFT is short; its future looks to be much longer.
What is EFT?
EFT is a powerful new discovery that combines two well established sciences so you can benefit from both at the same time:
Mind Body Medicine
Acupuncture (without needles).
In essence, EFT is an emotional version of acupuncture wherein we stimulate certain meridian points by tapping on them with our fingertips. This addresses a new cause for emotional issues (unbalanced energy meridians). Properly done, this frequently reduces the therapeutic process from months or years down to hours or minutes. And, since emotional stress can contribute to pain, disease and physical ailments, we often find that EFT provides astonishing physical relief.
You will need evidence of this for yourself and so I offer the following for your perusal:
Try it yourself by downloading the EFT Manual for free. It gives you all the basics and allows you to test drive EFT on your own issues (although at a beginner's level). If you wish to save time and dive right in you can buy our easy to use training Libraries. They will take you from Beginner's level all the way to Mastery. Interestingly, this process is so easy to use that no previous training is required. Caveat: For people who are emotionally or physically frail, qualified health professionals should be consulted before using ANY health procedure.
Peruse the many studies and experiments on our EFT Research and Science section.
Read the exhaustive list of actual cases on this website. These are written by clients, therapists and physicians and allow you to see EFT's possibilities through the eyes of those that have already been there. Note the wide variety of successes. This is why one of our sayings is, "Try it on everything." It is as close to a Universal Healing Aid as anything I've seen.
More benefits...
You can make enormous strides by introducing EFT into your emotional therapy process (whether you are a professional or a client). Instead of taking months or years using conventional "talk therapy," EFT often does the job for you cleanly and thoroughly in one or two sessions ... and we sometimes achieve noticeable results in a few brief rounds of EFT. We label these near-instant results as "one minute wonders."
Once you have seen how well EFT clears out emotional debris, your next step is to notice how physical ailments start to fade. Headaches, back pains and other discomforts often tend to improve or vanish as emotional issues improve (this is the essence of Mind Body Medicine). Your vision may become clearer and everyday stress may take less toll on your system.
Accordingly, you can apply it to just about everything. That is one of the most astonishing things about it. You use the same basic procedure for your fear of public speaking as you do for improving your golf score. You can also use it for everything from the common cold to multiple sclerosis (consult your physician, of course). Further, we have had reported successes for nearly every emotional issue on the books...including fear, trauma, depression, grief and schizophrenia. Some consider it the missing link in the pursuit of health and happiness.
Possible EFT limitations
I'm not saying here that EFT is perfect. We don't get 100%. But it usually works well and the results are sometimes spectacular. Because of it's unique approach, it can work where nothing else does and, to many, it represents a Doorway to a new Healing High-Rise.
You will find that EFT is usually quite gentle and you can often achieve substantial relief with little or no pain. This is not true for everyone, however. Some people's issues are so intense that the mere mention of them causes emotional or physical pain. But, given time, even these may be resolved efficiently with EFT.
A small percentage of our population (best estimate is less than 3%) have serious emotional and physical disabilities and thus newcomers to EFT are advised to exercise common sense in this regard. While you can use EFT to generate impressive relief for many people, please consult qualified health practiitioners where appropriate and don't go where you aren't qualified.
source site: click here
So how does EFT work? Well, simply put no one knows for sure. However there are a few theories. It uses the end points of the 12 major meridian channels and the 2 governing vessels found in Chinese medicine. It has been observed that by tapping on these points while focusing on the problem, a release takes place clearing the physical or emotional pain being worked on. This has lead to the principal that:
The Cause Of ALL Negative Emotions Is A
Disruption In The Body's Energy System
It seems that while experiencing or focusing on a specific problem, and tapping on the meridians that carry the energy, disruptions are cleared and normal function can resume.
Questions and Answers
Do I always have to do the whole "Basic Tapping Sequence"?
No, you can leave out the hand (finger points and The Gamut).
However, if you don't get anywhere with the tapping, go back and include the hand. Also, you can substitute the Sore Spot with the Karate Chop Point while you are going through the Set-up phrase ("Even though…")
What happens when I forget a point or mix up the sequence?
Don't worry about it. EFT is a very forgiving technique. The next time around, you'll get it right. When in public, you can leave out points intentionally, like the one under the arm. Just tap the Karate Chop point, the Collarbone point, and the side of your eye, as if you were nervous.
What if I don't get any results?
The most common reason is that you are being too general.
If you tap for "Depression" or "Low self-esteem", you usually have to get more specific (events, memories, feelings). If you are dealing with a long-standing, complex issue, or if you don't even know what the issue is, you might want to work with an EFT practitioner. Often you need only one to five sessions.
How can I learn more about EFT?
A Thought or a Memory
v
Triggers a
v
Disruption in the Body's Energy System
v
Which is experienced as
v
Psychological, Physical or Emotional Pain
By clearing the disruption in the body's energy system EFT returns health to the client.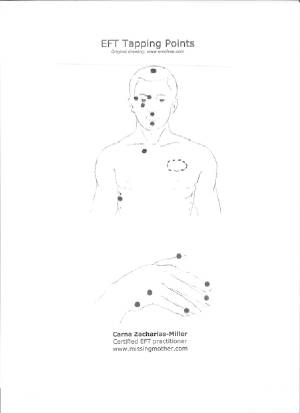 When using EFT, normal function is restored and a cognitive shift takes place that can leave the person wondering what the problem ever was. They then find it hard to believe, and in some cases just don't even remember, that they even had the problem.
This is known as the Apex effect. This problem is further heightened by the general disbelief that EFT could ever work. For that reason it is important to write down whatever you are treating and its intensity level before starting. This is covered further in EFT techniques.
EFT: Basic Tapping Sequence
Begin by taking a reading of your level of discomfort on a scale 0 to 10 (10=high)
The Set-up
Rub the Sore Spot while repeating your affirmation statement three times:
"Even though I have this >problem<, I deeply and completely accept myself."
The Sequence
Tap on each point 5 to 7 times (don't count) while repeating your Reminder Phrase.
The Reminder Phrase is in the middle of your affirmation: "This problem"
It does not matter which side of your body you are tapping.
The Gamut (optional)
Tap continuously on the Gamut Spot while going through these nine steps:
1. Close your eyes. 2. Open your eyes. 3. Look down hard to the right (without moving your head). 4. Look down hard to the left. 5. Roll your eyes in a circle. 6. Roll your eyes in the opposite direction. 7. Hum two seconds or so the melody of a song. 8. Quickly count out to Five. 9. Hum again.
The Sequence
Repeat the first sequence (Tapping on the points).
Take a deep breath.
Then take a new reading of your level of discomfort with the issue on a scale 0 to 10. If you are not at 0, repeat the entire process using the modified affirmation "Even though I still have this (or some of this) problem.
If you are not making any progress, get more specific on the issue.
Psychological Reversal is another interesting concept in EFT. This appears to be when the energy flow becomes reversed, although nobody is exactly sure how it works. The outcome is however undeniable.
Take for example somebody who wants to quit smoking. Anybody familiar with muscle testing would be able to tell you this person should test positive when saying they want to stop. However most people don't. They still have some deeper part of them that wants to carry on smoking. Finding these different aspects and treating them with the help of the set-up phrase (see EFT Techniques), can correct this problem. The outcome of this is its possible to help someone to stop when their will power is not strong enough. In fact it even demonstrates that will power is not best used to overcome addictions.
EFT can help many different issues. The motto is 'try it on anything', however EFT does have much better success rates with some conditions than others. Some of these include fears and phobias, headaches, addictions, trauma, abuse (sexual, physical or mental), allergies, self-confidence/image, dyslexia and anger/stress. Others that people have reported respond well to EFT are weight loss, arthritis, phantom pain, anxiety disorders and even warts.
Using the basic EFT guidelines in this site you may like to try and treat some of these, or any other conditions you can think of. More ideas are given in the case files and plenty more still on other web sites found on the links page under contacts.
Also see: Trauma & Abuse, Stress & Anxiety, Fears & Phobias, Depression, Addictive Cravings, Children's Issues and hundreds of physical symptoms including headaches, body pains and breathing difficulties.